Next Friday, CraftyMummy and I board a plane and head to Sydney for Blogopolis. I am very excited and very nervous and I don't really know what to expect.
I have worked out what I will be wearing… More on that another time. But at the moment I am wondering about my hair. I am getting my hair cut and coloured on Wednesday, and I want to have a bit of an idea of what I would like before I go.
I started going to my hairdresser, Chanel,  when I first moved back to my hometown 8 years ago. I stumbled upon her through a friend and I have never looked back. Chanel is fabulous. She always knows just how to cut my hair and always does such a great job. Once upon a time I was a very badly managed blonde, over a few years, Chanel persuaded me to go to a dark brown, which I love and have never looked back!
The biggest compliment that I could give Chanel would be to give her number to my sisters! We all now get our hair cut by Chanel in her cute little salon behind her house. I would love Chanel to give a psychological profile on the three of us – how interesting would that be! Chanel often laughs when I ask her about my sister's hair cuts…. Wendy likes her hair to be dyed lots of colours and she goes for the 'tousled' look. Tricia always pushes the boundaries and has had some really cool hair cuts – her current one is FABULOUS! As for me, I always go for the neatest hair cut possible… neat and cute. That is how I like my hair…
Tricia told me the other day that she found her current hair style on the website called 'thehairstyler'… so I thought I would have a look see. It is such a great website! It has a feature where you can upload your photo and 'try on' hair styles! Also, there are lots of celebrity hair styles which is kind of fun!
I have a concave bob at the moment, longer at the front and cropped at the back. I was thinking I might like something with a bit more texture and I am toying with the idea of assymetrical… Here are some looks that appeal….
I would LOVE your feedback!
a) The Cute Bob – textured and cropped….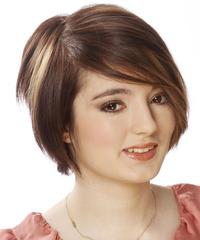 b) The Asymmetrical Bob with a bit of a fringe…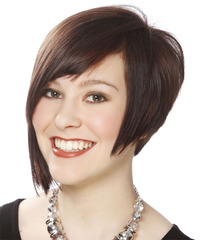 c) The Ashlee Simpson Smooth Ear Tuck….
d) The Textured But Smooth & Sleek Cropped Bob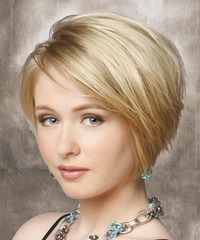 e) The Razored Bob with a Sweeping Fringe…
I actually like the bit of colour in the fringe….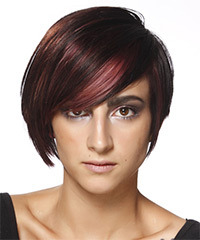 f) The Longer Assymetrical Bob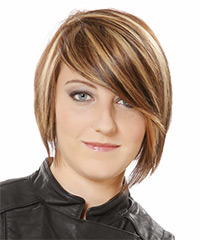 So… what are we thinking?
I will keep my current hair colour which is a dark chocolate brown….
Discuss below…
Tricia, I am wondering which one you like!